Skipping day
One of the ways we have invested our PE and Sport Premium, over the last two years, is our partnership with Skipping School. This has supported children to learn new skipping techniques.
Skipping has a variety of health benefits including improved cardiovascular fitness, increased muscular strength and endurance, improved flexibility and coordination, improved timing and rhythm, along with balance and agility, increased social skills and self-esteem, and the opportunity to be creative.
With skipping equipment available for pupils to use at playtime and lunchtime, this is one of the ways they can achieve their active 30 minutes in school every day.
Year 2 and Year 4 have taken part in skipping festivals this year and Jodi, from Skipping School, will be working with our remaining classes on Wednesday 19 June.
There will be a whole school skipping assembly at the end of the day and if the weather is dry, this will be held in the playground and parents and carers are invited to come and watch the skipping skills on show.
Please note that if the weather is wet, the assembly will need to be indoors and, due to space restrictions, we will not be able to accommodate parents and carers in the hall as well as the skippers.
After the skipping assembly, skipping ropes will be available for sale at a subsidised price of £2 rather than £5 from outside the Year 2 classroom.
Living and Learning: Relationships education
Thank you to those parents and carers who attended the recent relationships education information sessions.
'Very helpful to understand what information will be taught at each level and the terminology so we can use the same language at home.'
'Lots of helpful information to help support learning.'
'Pleased to have a clearer sense of what will be covered and how.'
'Very helpful to understand what is covered and what vocabulary the children will be learning to be able to reinforce it at home.'
These sessions were aimed at making parents and carers more aware of some of the following aspects of our curriculum.
Relationships education forms part of our Living and Learning for this half term and if you were unable to attend the session, our progression of learning (pg10) and the terminology (pg6) that may be used as part of this learning can be found in our RSE policy.
Let us entertain you!
Today, the whole school were invited to watch some of our talented musicians in action. Year 4 showcased their skills on the ukulele.  Having learnt a few simple chords and some basic strumming patterns, the children confidently played some popular tunes for us to enjoy.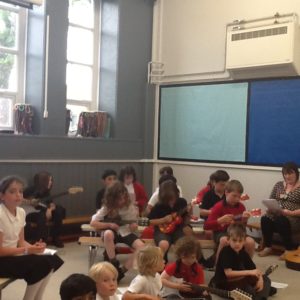 Across the year groups, we have a selection of children who are learning to play the guitar. This group of musicians also demonstrated their skills.
Well done all!
Walk to School Week competition update
For pupils who are completing the #WalktoSchoolWeek story this week, as school is closed tomorrow, the missing words for Thursday AND Friday can all be found on Friday in the usual locations. Happy Walking!
Remember to bring in your completed sheet on Friday to be entered in the prize draw for four £10 vouchers.
Big Pedal
Our involvement in the recent Sustrans Big Pedal initiative has been recognised in the latest Leeds City Council Influencing Travel Behaviour newsletter.
Thank you to all the schools who took part in The Big Pedal this year. An amazing 2299 schools across the country took part and 36 of them were from Leeds which is brilliant!
Well done to Moortown Primary School who came 38th out of 500 in the small school category!
It's great to see such positive engagement in these active travel initiatives to ensure families have a healthy and active start to the day.  Thank you to Moortown Living Street group for their support with our active travel initiatives.
Living and Learning: MoneySense
Over this week, we are holding MoneySense sessions for each class with support from volunteers from NatWest.
MoneySense is an impartial financial education programme that uses real-life experiences to help young people develop good money habits.
Catherine from NatWest, supported our 'How we use money' Year 1, 2 and 3 sessions yesterday and gave some great feedback.
'Everyone was very friendly and helpful. All the children I met were extremely well behaved and I was incredibly impressed with their depth of knowledge about finance.'
'I learnt that paying for the internet is a want for a family but paying for food is a need.'
Money Matters themed week – School Savings Club
As it is our Money Matters themed week, we are holding an information and paying in session tomorrow after school for the School Savings Club pupil accounts.
Jordan Francis, from Leeds Credit Union, will be available to give more details and hand out application forms for these pupil accounts. As there is not minimum deposit requirement, it is a great way for your child/children to learn the importance of money. Paying in sessions are held every half term.
As always, if you are unable to attend in person, please hand in any money to be paid in, to the office in a sealed envelope addressed to Mrs Tiffany.
Cricket finale
Today, we finished our cricket sessions with Tom from Yorkshire Cricket.
This final match allowed us to use all the skills we had learnt in our previous sessions – throwing, catching and batting. There was some great teamwork and communication on show as well.
A number of children commented they have started their All Stars local cricket sessions.  These sessions allow the children to continue to develop the skills they have learnt at school.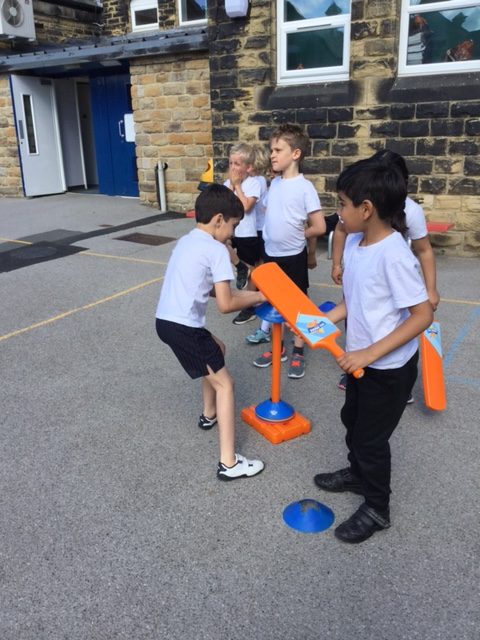 Living and Learning: How does our money help people?
HotShots was a great start to our themed week.  Each child had three chances to get their fastest shot with lots of encouragement and supporting from the sidelines.
Well done to Shasmeen and Jack who were our fastest girl and boy shooters with speeds of 28mph and 39mph.
Thank you to children who have returned their sponsor form and money.  Please return any remaining money by the end of the week. The money raised will be donated to our school charity, WWF.
Living and Learning: Saving the pennies
A big thank you to Mr Shine, our facilities assistant, who donated his collection of 1ps and 2ps to help to raise money for our school charity, WWF.
We've a team of money counters each day and today's group were kept very busy.
Remember, pennies and two pence coins can be brought in all week ready for our money trail on Friday.
Living and Learning: Money Matters
Year 2 have had a busy start to our themed week.  This morning, we welcomed Paul and Jane from Yorkshire Building Society to find out about needs and wants.
'A need is something you have to have to survive.'
'A want is something you don't need but you like.'
'Choice is to pick something sensibly.'
We also learnt an important message that different people have different needs and wants.