School Savings Club
The next School Savings Club paying in date is 13 December 2018 at 3.15-3.45pm.
If you're unable to attend in person, please hand in any money to be deposited to the office in a sealed envelope addressed to Mrs Tiffany.
Paying in dates fall on the penultimate Thursday of each half term.
If your child would like to open account, please ask at the office.  This is a great opportunity for children to begin to manage their own money and understand the importance of saving.
New school meal menu
Our new Spring/Summer school meal menu, starting from after February half term, is now available on our Meals page.
The menu has been created in liaison with Catering Leeds to ensure it meets the School Food Standards.  We have also incorporated feedback from our school cook, pupils and parents/carers.
Pupils will continue to make their daily food choices at the start of the day to ensure they receive their first choice of main meal.
Year 2 book club
Next Tuesday, 11 December, it's book club time in Year 2. This is an opportunity for the children to bring a favourite book to share with their classmates. It could be a story or an information book, a comic or a poem. It could be an old favourite or a book they've recently read.
Mrs Taylor and Mr Wilks will also share their favourite book!
We look forward to seeing and hearing about your choices!
When will be your next Park Run?
Thank you to Richard Spencer (parent, chair of the PTA and Park Run race director at Roundhay Park) who came to speak to the whole school this afternoon about the great, free, weekly Park Run events held locally.
We were impressed by the number of children who have already completed a Park Run event with one pupil achieving over 100 runs!
All you need to take part is to register for your personal bar code that is used at the event to record your position and time for the run.  ThePark Run event is not a race.  You are only trying to beat yourself by achieving a faster time each time you do it.
There is no commitment to attend every weekend: just turn up with your bar code when you can.
The course is fully marshalled and so children are able to run round with others as long as an adult accompanies them to the event.
We'd love to hear your Park Run achievements – let your teacher know!
Science mini topic
We've now started a science mini topic based on forces. To begin this topic, the children were shown a series of forces-related photos and asked to come up with questions based on what they would want to know.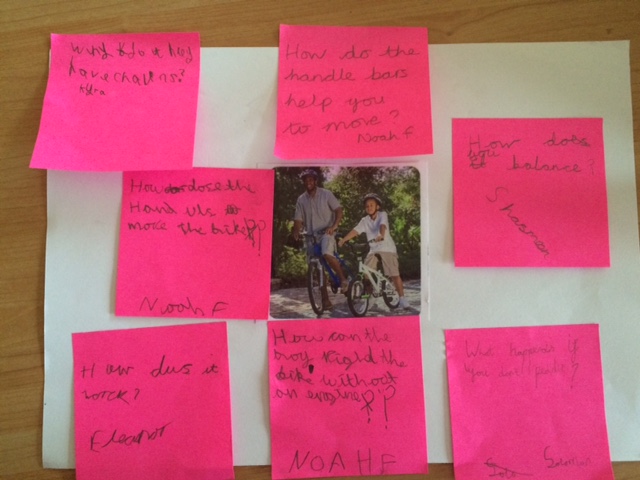 There were some great scientific questions and these will lead into some investigations we will be doing based on forces.
BBC website has a number of videos on forces if you want to find out more.
What is our new school charity?
We support our school charity for a year and it is now time to change our current school charity, Make-A-Wish.
This week, each class, discussed a range of charities, researched by the children for their homework, and voted on one charity they wanted to put forward for the school councillors to decide on.
Here were the class choices:
At the School Council meeting, all of the children spoke passionately about their class's chosen charity and gave a good overview of what they do and how our fundraising may help.
The final democratic decision was made by a vote by the School Council and the winning charity for 2018-2019 is WWF.  We will support this charity for one year.
KS1 cricket
Thank you to Tom Bates from Yorkshire Cricket who delivered great, fun cricket skills sessions yesterday for Year 1 and 2.
The sessions were to promote the All Stars cricket programme that will be available in 2019.  Preregister on their website to receive details of how your child can take part in the sessions due to be held at local cricket clubs next year.
This video gives more information about All Stars cricket.
Living and Learning – Identity
For our next few Living and Learning sessions, we have asked the children to bring in something that represents them.  This links in with our current theme all about Identity and what makes them special and unique.
We will do this over the next three weeks so please note the dates and groups below.
Tuesday 27 November Arctic Ocean
Tuesday 4 December Atlantic Ocean and Indian Ocean
Tuesday 11 December Pacific Ocean and Southern Ocean
The children should choose to bring in or talk about something to do with their family, an interest they have or any achievements they have made and be ready to share this with the class.
Topic Review
As it's the last week of our big topic we've mixed up the classes to review what we've learned.
The Year 2s and the Year 5s have spent part of the morning talking about the learning in their books.
They then fed back about what each other had learned and particular pieces of learning that impressed them.
Time Travellers at Herd Farm
Our visit to Herd Farm, to take part in the Forest Schools' Time Travellers workshop, has been a perfect end to our Time Travel big topic.  Herd Farm was an amazing setting, in glorious Autumn sunshine, to discover different types of homes from the past.
First of all, we went right back in time to set up our own Stone Age camp.  Lots of teamwork and problem solving skills were needed.
Safety first – Tina taught us how to hold the sticks correctly.
Next, we went to explore the replica Iron Age village.
Tina showed us the frame of the Iron Age roundhouse to explain the materials used and how the houses were put together.  What materials were needed to build the houses?  How was this different to houses built today?
All the class managed to fit in the larger house.  Some Iron Age roundhouses were 40m wide!
What was inside the house?  Why were these needed?
Now time to have a snack, enjoy the view and ask Ian, an archaeologist, questions about another type of home we have learnt about, castles.
Ian lit a fire in a traditional way.  How did he do this?
The Iron Age roundhouses provided a great backdrop to sketch.
Finally, we spent time looking at the buildings at the residential centre which date back to 1760 and used to be a farm.  We spotted alterations made to the old stone barn and farm house since this time to make it into the centre that it is today.  The most modern building at the site was a sustainable building made from metal and wood.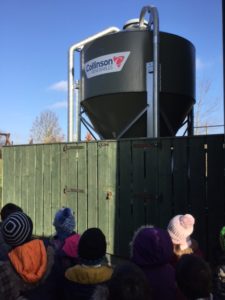 We thoroughly enjoyed our outdoor learning experience discovering a range of houses from the past.