Living and Learning – proud but not showing off
In our Living and Learning lesson today, we had a good discussion about this week's statement.  Here's a summary of the some of the differences the children thought of.
Art Attack
Today, we have started our new mini topic, Art Attack, and our first lesson was all about exploring colour.  As well as using different art techniques, we'll learn about some famous artists too.
Here are some of the Year 2 art objectives we will be covering.
Can your child respond to and explore ideas?
Can your child investigate and use materials and processes (eg drawing, painting, 3D work, collage, printing, e-art, textiles) to communicate ideas and make images / artefacts?
Can your child investigate and use a variety of visual and tactile elements (eg when using colour, shade, pattern, line, texture, form, shape, composition, scale, proportion and tone) to communicate ideas and make images / artefacts?
Can your child describe what they think or feel about their own and others' work (including that of significant artists), making suggestions to improve?
Can your child comment on differences between pieces of art?
Can your child name the primary and secondary colours?
Is your child aware of different grades of pencil for drawing?
After reading about the life of Vincent Van Gogh in our guided reading lesson, we compared his work with the work of Wassily Kandinsky.  It was interesting to hear the children's differing views when talking about some of their famous pieces of art.  We respected each others' opinions.
Based on our Living and Learning statement this week, I know the difference between being proud and showing off, we considered how these artists would have felt about their paintings.
Here we are creating secondary colours from primary colours.
We looked at the way Kandinsky had used colours, warm and cold, to create his painting, Squares with concentric circles, and then began to create our own versions.  We'll be back to our paintings later in the week.
School Savings Club
The next School Saving Club paying in date is Thursday 22 March 2018 at 3.15-3.45pm.
If you're unable to attend in person, please hand in any money to be deposited to the office in a sealed envelope addressed to Mrs Tiffany.
The paying in dates are the penultimate Thursday of each half term and for the summer term, these dates are Thursday 17 May and Thursday 12 July at 3.15-3.45pm.
Finally, if your child would like to open account, please ask at the office.
West Yorkshire Cross Country Championship
This week, Grace, one of our Year 6 pupils, took part in the West Yorkshire Cross Country Championships, competing against pupils from Calderdale, Bradford, Kirklees, Leeds and Wakefield.
Grace qualified for the finals by coming 14th in the Leeds championships.
She faced the finest runners in the county and out of a field of nearly 150 runners, Grace came a fantastic 32nd place – the 12th Leeds finisher.
Well done to Grace on her great performance!
Moortown play park consultation
Would you like to find out more about the proposed play park on the land at the rear of school?
Would you like to comment on the proposed play equipment suggested in the design?
Maybe you've seen equipment in other parks that you'd like to recommend.
Helen Forman, a design officer from Leeds City Council, will be visiting school tomorrow to consult with our School Council.  After that, all children will have chance to see the proposals in an assembly.  Helen is keen to hear their views as the future users!
From 3pm, there will be chance for parents and carers to see and comment on the proposed designs.
We hope to see you there.
Fractions
As we come to the end of our unit on fractions, today we were learning about equivalent fractions.
We explored how two quarters and one half of the same whole are equivalent (the same).
This Super Movers routine is a great summary of our fractions learning.  Also, check your child's assigned tasks on Mathletics to follow up this learning at home.
Girls golf rocks
Girls Golf Rocks is a partnership project aimed at addressing the disparity between girls' and boys' participation in golf.
The county-wide recruitment drive targets girls aged 5-18 years of age, providing the opportunity for them to access free taster sessions, followed by a five week coaching, Par 3 event & a 7 iron golf club – all for £14.
There are eight centres across Yorkshire running the programme, delivering girls only sessions with an emphasis placed on fun, social and friendship aspects of golf rather than just the coaching and playing side of the game.
Supermovers times tables
We love the Supermovers maths videos to get us active while we're learning our 2, 5 and 10 times tables.
Why not watch the videos to support maths learning at home, too.
Living and Learning – body image
The focus for our first body image Living and Learning lesson was to learn about our own identity and what makes us unique.
We started by thinking about different facial features and how you might describe a face.
Using a mirror, the children were asked to look at their own face and notice their own features.  Can you recognise some of these class members?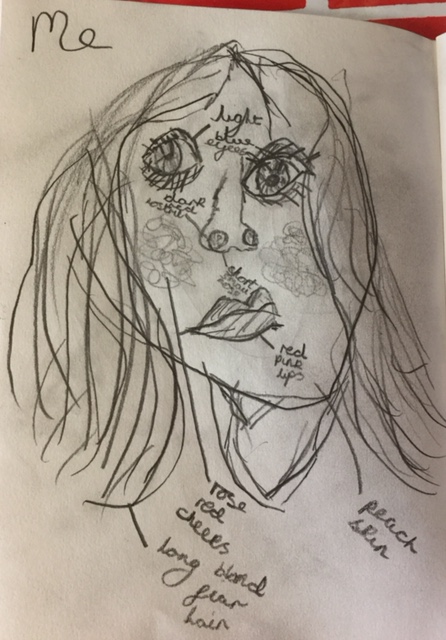 We then worked in pairs to think of things about our appearance that are the same and different.
'We've both got black hair and red tops and we've both got different length of hair.'
'We are both boys and have got white tops but we don't both have glasses.'
Finally, we discussed what it would be like if everyone looked exactly the same.  We're lucky to have a wide variety of different children in our class and school.
Living and Learning – a body image guide for parents and carers
This term, our Living and Learning theme is Being me.  Part of this learning is all about body image.  This parent and carer guide has been designed to give practical ideas to support your child in building their emotional resilience in this area.