Year 2 skipping festival
UPDATE Thursday 01 March – due to the weather, the event has been cancelled for tomorrow and will be rearranged.  Therefore we've more time to practise skipping – maybe tricky in the snow though!
We're all gearing up for the skipping festival organised by Skipping School on Friday morning.  The children have all been assigned a skipping skill for the event and have amazed us with how they've improved their skills since the start of the project.
On Friday, we need to leave school at 9:00am prompt so please ensure your child is at school for registration at 8:50am.  Children can come into class from 8:45am.
Here are some other reminders:
Children should come to school in PE kit (long sleeved top and bottoms would be preferable as the event is in a sports hall).  Remember: no earrings.
Uniform should be brought to school for children to change into when we return to school
All children need to bring a packed lunch to have as we return to school
Ensure your child has their water bottle at school that day
We will be taking a fruit snack with us to have during the morning
World Book Day themed menu
Catering Agency, our school meal provider, will be running a special themed menu on Thursday 01 March.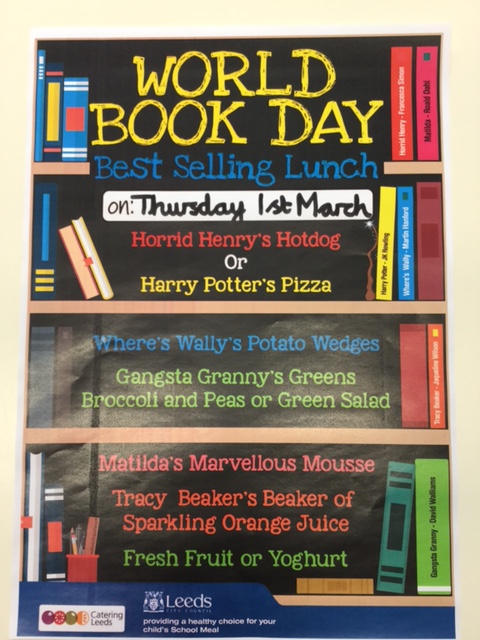 Living and Learning – Vampire cough and sneeze
You're just about to sneeze or cough but you don't have a tissue. What should you do?
Year 2 have been discussing why we don't cover your mouth and nose with our hands.  
If you sneeze or cough into your hands (and then fail to wash your hands straight away), you'll only be spreading colds and flu germs on everything you touch.
So what is the better option?  Use your sleeve.
Cover your nose and mouth with the material near your elbow and do the vampire sneeze and cough.  The germs will soon dry out and die.
Well done to Saahir who we spotted using this technique this morning without prompting.
Getting close to the creatures
Today, we met a variety of unusual creatures in our Meet a Creature workshop.  These included a tortoise, a snake, a tarantula, bearded-dragons, a gecko and a chinchilla.  Some children, and adults, were brave enough to hold or just touch the creatures.  We learnt lots of facts about the animal's habitat and how they adapt to their environment.
Did you know that bearded dragons can drink through their skin?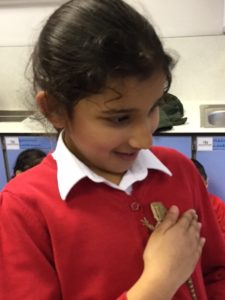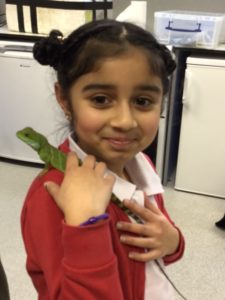 Living and Learning this half term
Living and Learning sessions
 are held weekly in class to promote social and emotional aspects of learning and other areas of Personal, Social and Health Education (PSHE). This half term our main theme, from our
long-term plan
, is
Being me 
and is all around building self-image and self-esteem
. 
We begin the half term with a focus on manners and in particular covering our mouth when we cough, sneeze or yawn. To promote good hygiene we refer to the
vampire technique
. By coughing or sneezing into our elbow, germs are not spread into the air or on our hands which may contaminate other things. Don't forget to 'use your sleeve to cough and sneeze'.
Here are the weekly Living and Learning statements, to support this learning.
I cover my mouth (when I yawn, cough, sneeze).  Get your child to demonstrate the 'vampire' method to family members at home.
I can say something good about myself.  It's important that your child can confidently talk about themselves in a positive way.
I pay compliments in a sensible way.  Try paying compliments each day to each other!
I receive compliments in a sensible way.  Some children struggle to hear positive words about themselves, but this is important for self-esteem. Try paying (and listening) to praise and compliments.
I know the difference between being proud and showing off.  We encourage compliments to be paid – but encourage your children to know the balance between being having self-esteem and showing off.
I recognise my talents.  Talk to your child about talents, whether academic, physical, social or emotional.
Change4Life healthier snacking
Have you see the recent Change4Life campaign encouraging children to have no more than two packaged snacks per day to reduce their sugar intake?  Remember fruit and veg are always the best snack and count towards your child's 5 A Day.
The campaign is launched as Public Health England reveals half the sugar children consume comes from unhealthy snacks and sugary drinks. Children in England are eating nearly three times the recommended amount of sugar.  Too much sugar can lead to harmful fat building up inside and serious health problems, and also painful tooth decay.
Recently children brought home the Family Snack Challenge.  Can your family complete the 7-day healthier snack challenge?  Change4Life provides lots of hints and tips for healthier snacking.
Supermovers
The BBC and Premier League have launched a campaign called Super Movers to encourage children to become more active while learning.  Teachers will be using the video resources to get children moving in lessons throughout the day.  This physical activity can contribute to the 30 active minutes children should be doing at school.
Why not use the Super Movers video resources to support your child's learning at home.  Activities range from learning times tables to apostrophes.
Science experts in Year 2
This afternoon, two medical students from the University of Leeds visited us to teach us about the human body.
It's great having visitors in to class to talk to us but it's also an important part of our science curriculum to use secondary research. We often do this in school by reading books and doing internet research but talking to experts is also a great way we can learn.
How often is your child reading at home?
Daily reading, ideally with an adult, is vital to become a better reader.
We've had a challenge this half term to see who can read the most at home.  Children needed to read, and have their reading record book signed, to earn a star on the chart.  For some children with longer books, this doesn't have to be the whole book.  You can also add any extra books that you're reading at home – don't forget non-fiction books (maybe to do with our Life Forces topic), poetry, comics, websites or newspapers!
Well done to the children who have already reached the target and have received their prize.  We'll continue to have the challenge next half term so keep reading!
Tricky words
At the back of your child's reading record book are the Year 2 common exception words for your child to practise reading.
One of the end of Year 2 expectations for writing is for children to spell these words, too.
Therefore after half term, we'll be having some informal spelling checks using these words.
We'll use the word lists in the order they are in the reading record books, starting with list 1:
door
floor
poor
because
kind
find
mind
behind
child
children