Explorers
Year 2 launched into the whole-school Explorers topic this week by becoming explorers in our local area.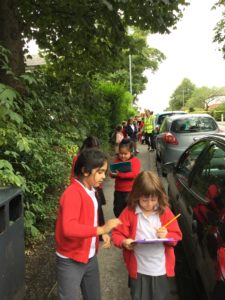 We looked out for physical and human features as we explored.
After our visit, we discussed what we liked and disliked about our local area.  A lot of the children had noticed litter on the ground, sometimes very close to a bin, and that was something they didn't like. Because of this, we are planning some litter picking in the coming weeks.
Traffic was also something that was commented on.
We will be using our maths skills this week to record just how much traffic there is around school.  This traffic survey will be exchanged with Scholes (Elmet) Primary and St James (CE) Primary to make comparisons.
We've had a great start to the big topic so far and are looking forward to lots more exploring.  Below is an overview of the topic.
In this Big Topic, your child will become an intrepid explorer, embarking on an amazing adventure of discovery.  Children will compare the physical and human geography of different localities.  They'll use maps, atlases and globes to help them plan journeys into the unknown!  Geography learning will be key in this whole-school topic, thought the children will also enjoy other subjects, too.  Maths skills, for example, will be used – children might look at positional language, coordinates, or statistics.  Your child will also be encouraged to explore and learn about their own locality.  Why not involve your child when planning a trip to explore some local attractions like Leeds Art Gallery or the Yorkshire Sculpture Park?
Practice that feels like play!
Practice that feels like play!  Does this sound beneficial for your child? Have a look at IXL. It's an online tool where you can access different activities to help your child practise basic skills.
It's split into year groups, specifically looking at English and Maths, then each subject is broken down into sections. You can get a flavour of the activities by hovering over the title and can have a go at some of them – it looks great fun and very child friendly. The questions are all interactive and there are detailed explanations for new concepts.
There is a small monthly fee if you wish to sign up. Take a look – it might be something you want to explore.
Story mapping 
We've been planning our own story today based on our class novel, Lost and Found. Children have drawn pictures to represent what happens in the story. This will help them sequence the story when they write it tomorrow. 
Skills
In our topic lessons, and other lessons, children have the opportunity to use many skills such as ICT, improving their own learning and performance, working with others and problem-solving.
Here the children are working with others and using their thinking skills to predict what their learning might be at the start of a topic lesson on seasons.
Library
Year 2 will be visiting the school library on Mondays. This will be part of our reading sessions and half the class will spend the session in the library relaxing and reading. The other half of the class will visit the library the following Monday.
The children will choose a book (to bring home) and will keep the book for two weeks. Children should take responsibility to return their library book to school after this time to be ready to choose a new book.
Have you visited local libraries nearby, too? As well as borrowing books from Moor Allerton or Chapel Allerton libraries, have a look at the different events that take place there.
Hot and cold countries 
We've been using atlases in a geography lesson to locate hot and cold countries. Children have learnt that countries close to the poles are cold but that countries closer to the equator are hotter. 
Ruler Art
We've created pieces of art and practised using rulers to draw straight lines this afternoon.
Living and Learning
Living and Learning is our new name for SEAL (Social and Emotional Aspects of Learning).
Living and Learning will continue to cover SEAL learning but will also incorporate other aspects of PSHE (Personal, Social and Health Education) such as keeping safe, identity, drug education, physical health, rights and responsibilities and healthy minds.
We begin our Living and Learning learning this week with a focus on manners: I can greet someone politely.
For the rest of this half-term, we're thinking about the '8 Rs for learning'. This theme is about promoting good learning behaviour for your child.
Each week, we'll focus on two different 'Rs'. We use an animal to symbolise each 'R', which might help your child remember all eight – can your child remember which animal matches the correct 'R'?
You can support your child at home – we've listed a few ideas to help you below. Ask us if you've any questions or comments.
Download top tips for promoting the 8Rs for good learning behaviour.
I can show I am ready to learn.
Make sure your child is at school for a prompt start of 08:50.
Make sure your child has had plenty of sleep so they are alert and ready to learn at all times.
Encourage your child to ask lots of questions – that shows they want to learn!
I respond to feedback.
Ask your child if they remember their 'stars' and 'steps' in English and Maths.
I take a safe risk.
Talk about the difference between a safe and unsafe risk. At school, we want your child to take a safe risk by having a go at answering, even if unsure; trying something new and attempting harder learning.
I take responsibility for my own learning.
Provide time and space at home so your child is able to organise themselves: their PE kit, reading book, homework, spellings and tables… Don't organise everything for them!
Make a link between rights and responsibilities: your child has the right to a great education, but needs to be responsible for their own learning.
I am resourceful.
Encourage your child to be organised so they can play with a range of different toys.
Encourage your child to try new ways to solve a tricky problem.
I am resilient.
Encourage your child to keep going! Set a tricky challenge or puzzle for your child to do.
Encourage your child to think of different ways of doing things.
Don't let your child win when they play a game – they need to experience losing, too!
Celebrate mistakes as opportunities to learn – be happy that your child found some learning hard and encourage them to 'bounce back' and learn from the experience.
I remember.
Make sure they have time to learn spellings, number bonds and times tables – a little practice daily is best.
Play memory games:
Kim's game: show them objects for 30 seconds… can they remember all the objects?
Can they build up the sequence, 'I went to the shop and I bought an apple'… 'I went to the shop and I bought an apple and a bike.'… 'I went to the shop and I bought an apple, a bike and a cucumber.' etc … Take turns!
I reflect about my learning.
Talk with your child about what they've learnt, asking questions about:
how they learnt
why they learnt it
when they'll use their learning
how they would teach this to someone else
what learning might link with what they've learnt today etc
School meals
Following feedback from parents and pupils (School Council and pupil health questionnaires), and a successful trial of children selecting their main meal on Fridays, we will be extending this to every day from next week.  Children will select their main meal choice at registration.
Please share the menu with your child so they are aware of the choices for each day.