Be mindful
At this busy time of year, mindfulness can help children to take control of their emotions.
During our recent themed week, all children took part in mindfulness workshops to learn a variety of techniques to use at school and at home.  Here's a reminder of a few of them that might be useful for over the holidays.  A mindfulness newsletter/parent guide will be sent out in the new year.
Breathing hug
Start with both arms in the air.  Put one hand across your tummy and the other on your shoulder.  Breath slowly in and out.
Breathing tree
In a standing position, raise your arms as you  breath in and release your arms back down as you breath out.
'Ok' breathing
Make an 'o' sign on your tummy button to represent that it is ok to feel different emotions.  Slowly breath in and out.
Mindfulness bottle
This is a bit like a snow globe.  Shake it up and watch it.  Simply watch the disturbance as it begins to settle – as does our mind.
Take a bottle, add glitter and food colouring and seal tightly.
Lights, Camel, Action!
This week, we've enjoyed three fantastic performances of our Lights, Camel, Action! production. We're sure you will agree the children have done a great job and we're very proud of their performances. Every child tried their best and learnt songs, dances and often lines.
Thank you for coming to watch the children. They love to spot a familiar face in the audience! We hope you enjoyed the show.
We also raised £202.41 for our new school charity, Make a Wish so thank you for your donations.
After a busy first term in Year 2, it's time now to enjoy the holiday with family and friends. See you back at school on 02 January 2018!
DT – Puppets
Finally, we evaluated our finished products.
We thought about what went well and what we found difficult. We also considered what we would do differently if we were going to do it again.
DT – Puppets
Once we'd seen our puppets, we had to decorate them. We tried to follow our designs as closely as we could!
" My puppet changed a little bit but looked almost the same as my design. It had short, yellow hair and I used pen to make the cheeks look red."
DT – Puppets
After we'd practised sewing, it was time to make our puppets using needles, thread and pieces of felt.
"The sewing was hard. I had to be resilient because I got a big knot of thread in my puppet so I had to start again!"
DT – Puppets
We've been designing and making puppets this half-term.
We started this project by first designing a purposeful, functional and appealing product.
DT – Puppets
After we'd designed our puppets, we practised tying knots, threading sewing needles and sewing using pieces of binka fabric.
"Putting the thread through the needle was tricky at first!"
"We had to use triple knots because one knot was too small and the thread came out."
"At first it was a bit tricky but then I got the hang of it and was quite good! "
Creative Cultural Homeworks
Here are our favourite creative homeworks. It is great to see how proud the children are of their religions or how enthusiastic they are about their cultural experiences.
Read, read, read!
In Year 2, we give the children more responsibility for their home reading.
We expect the children to:
read daily at home with an adult
ask an adult to write in their reading record book
bring both books back to school
put them in the reading basket for changing
Home readers are changed on a Monday and Thursday but not every child is returning their book on these days.  Please encourage your child to follow this to ensure they are reading as much as possible at home.
Don't forget to check your child's tricky words in the back of their reading book, too.
If you have any questions about your child's reading, please come and see us.
Road Safety Pantomime 'The Gift of Life'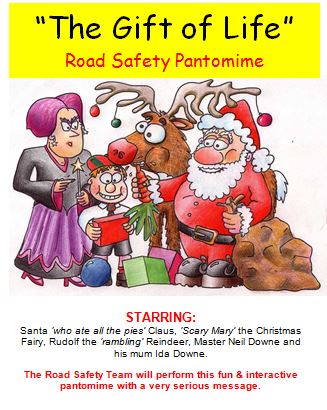 Yesterday, all pupils watched this lighthearted show that delivered important road safety messages.
Pupils joined Santa and Rudolf as they travelled back in time to prevent young Neil Downe from being knocked down. Whilst being fun and interactive, the pantomime covered the following road safety themes:
the Green Cross Code
seat belts
be bright, be seen
safer cycling
Ask your child about the performance and what messages they took away.