Identity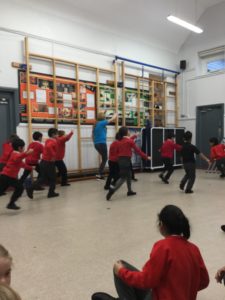 Yesterday we began our Who do you think you are? themed week by focusing on our identity, who we are, and how we are all special.  We particularly enjoyed our mindfulness workshop to focus on how our emotions can relate to who we are.
Our super power of mindfulness can help us to make a better choice and control different  situations.
There were lots of techniques that we can use in school and we have done already.
Breathing hug
Breathing tree
Ok breathing
Make your thumb come to life to show your emotion
Calming bottle
'I felt calm and I liked the relaxing music.' Christina
'I liked everything because I like mindfulness.' Billy
'I liked how we used the colours of glitter for the different emotions to make our calming bottle.' Edris
'I would use the bottle if I was sad or angry to make me ready to work.' Vedant
'If I shake the bottle, it will help me to be calm.' Aadil
'I liked the game where we did the secret tapping because it showed us that everyone is kind.'  Betty
'I liked to show my emotions using the freeze frame.' Tanvi
'I liked to show my emotion by bringing my thumb to life as a way of telling others how I feel.'  Da'wud
It was great to see so many parents attending the workshop on Monday, too, so that some of the techniques can be used at home as well.  Keep an eye out for a parent guide to support this with your child.
Money
This morning we've been combining coins to make amounts. We've spotted that there are different ways to make the same amount.
Explorers – topic review
It's the end of our Explorers topic this week and we've spent time reflecting on what we have learned.
This morning, we met with our Year 5 friends to discuss the topic. We looked at each other's topic books and talked about the different learning we did during the topic. Next, we looked at some specific skills which we might have used during the topic (e.g. comparing and contrasting, working with others, problem solving) and found pieces of learning which evidenced these skills.
Mindfull or mindful?
Would you like to find out more about mindfulness and how it can be used to support your child at home?
As part of our whole school themed week next week, all children will be taking part in mindfulness workshops.  There'll also be a parent/carer session on Monday 20 November at 2:30-3:15pm.
Please contact the office if you would like to attend.
Who do you think you are?
In preparation for our themed week next week (20 November), it would be great if your child could bring in a photo of themselves as a baby and also something that is special to them.  This could be a photo of special people, a special place or an object for the children to explain to the class so we can celebrate how we are all different but all equal.
We'll use these in class on Monday 20 November if your child could bring them in on the day or Friday 17 November.
Hello from Addis Ababa
This week, Year 2 were very excited to speak with some children from Sandford International School in Addis Ababa, Ethiopia.  We'd already sent the children some questions to find out about where they live and how it might be different to Moortown.
It really brought it to life when we were actually able to ask the questions to the children themselves in our Skype call.
Ask your child what we found out and how Addis Ababa is different to, but also the same as, Moortown.
Through our comparison of this different location, we have been covering the following Year 2 geography age related expectations.
Making comparisons to a UK location, can your child describe and compare a non-European place using geographical words (eg an African or Asian village compared to a village in Yorkshire)?
Can your child describe a place referring to both physical (eg beach, coast, forest) and human (eg village, factory, port) features?
Can your child explain what facilities a town or village might need?
Can your child ask and answer questions about the geography of the school and its surrounding environment?
Guided reading
In Year 2, as well as group reading, we also teach reading as a whole class using a variety of texts to support this. Today, as part of Anti-bullying week, we used our whole school definition of bullying to discuss word meanings.
When reading with your child at home, ask if there are any words they do not understand. Use a dictionary, the context of the sentence or any illustrations to help to understand what the word means.
In pairs, we then read through some scenarios to decide if they were bullying or not.
African themed dance
To link with our comparative location of Africa, Year 2 have been performing some great African themed dancing.
Here are some of the Year 2 PE objectives that we were working on as part of this learning.
Can your child perform most simple actions with control and coordination?
Can your child make a sequence by linking ideas from a stimulus into movement?
Can your child plan and perform a sequence of movements?
Can your child show contrasts in shape?
Can your child reflect on what other people have done?
There was also some thoughtful and constructive reflections to each other after the performances.
Christmas school dinner themed menu
Catering Agency, our school meal provider, will be running a special themed menu on Thursday 07 December. Please contact the office, before Monday 20 November, if your child would like a school dinner on this day.
Who do you think you are? themed week 20 November
Our next whole school themed week, based around identity, diversity and community, will be taking place from Monday 20 November, which also coincides with national Road Safety Week.  A variety of events and visitors are planned to help us deliver this key aspect of education.
Events during the week will include looking at our own identity including belonging, self-esteem and mindfulness, diversity of people around us including race, age, religion, disability and gender.  Classes will also be getting out into the community working with local organisations such as St Gemma's, local care homes, Moortown Community Group and taking pride in the local community by litter picking.
Road Safety Week will run alongside our themed week where children are encouraged to take a walk/scoot/bike in the community on their way to and from school, maybe even picking up a piece of litter on the way.  If your child walks, scoots or bikes, they should complete the slip at the bottom of the letter sent home (spare tokens are available in class), each day, for a chance to win a £10 shopping voucher for each class.  We hope you will support this initiative in helping children make a healthy start to their day and also helping towards reducing congestion at our gates.  Even by parking further away from school your child could then to do the final part of their journey by foot, bike or scooter.  Bike and scooter storage facilities are available beside the Year 3 and 4 classrooms.
During the themed week, children will be researching local, national and international charities and a new school charity will be chosen at the end of the week to replace our current charities, Yorkshire Air Ambulance and Mind Leeds.
Friday 24 November will be a non-uniform identity day.  Children are invited to dress in clothing that represents part of their identity, for example uniform from a club they attend, a team they are part of or support or traditional dress to represent their heritage.  We invite a donation for the PTA Christmas fair.
Who do you think we are?
Do you think you'd recognise some of our staff in their early years?  This photo competition is back and will run throughout the week with details to follow separately.  Proceeds will be given to our new school charity.
Community coffee morning Wednesday 22 November 9-10am
As part of the week, we welcome parents and carers to an informal coffee morning to meet other members of our school community including representatives from the PTA, our governing body, Moortown Community Group and Friends of Moortown Park.  I will also be available to speak to parents about our new Living and Learning scheme of work.  A whole school community Wake up Shake up will follow at 10am in the main playground.
Mindfulness information session for parents
Please see the separate letter to sign up for this parent workshop on Monday 20 November, 2:30pm-3:15pm.
Can you help?
Pupil feedback from our previous Who do you think you are? themed week was to 'learn more languages that other people speak.' Do you speak another language and you would be happy to speak to children about this?  If so, please contact the office to pass on your details.  Also, do you have any local community links that may support our week?
Our website and Twitter continue to keep you up to date with key community events as well as our community noticeboard with lots of information about the themed week too.  It's going to be a busy week!