Mathletics stars
Mathletics is a great resource that can support maths learning at home.  Children all have login details, to gain access at home, and can complete tasks, based on learning in class.  Currently the tasks are money related.
There are a number of children who, on a weekly basis, complete some or all of their tasks.  Well done to Aadil, Christina, Hashim, Saahir, Sasha and Vedant.
We realise that not all children will have access to Mathletics at home so please let us know if this is the case so your child can access Mathletics at school where possible.
Finally, if you need us to resend your child's login details, please let us know.
Packed lunches
On Monday, Caitlin Kitson, Nutritionist and Healthy Eating Adviser, delivered a whole school healthy eating assembly.  The main focus was the importance of healthy packed lunches.
We talked about the different food groups on the Eatwell Guide, why different proportions of each food group are important for our bodies and how to achieve this in a packed lunch.
It was great to hear the children's excellent knowledge of the Eatwell Guide when answering Caitlin's questions.
At Moortown Primary, our packed lunch guidance includes:
information about the different food groups
how to put together a healthy, balanced packed lunch
links to recipes and ideas for healthy packed lunches
Following the assembly, all children were given a copy of our packed lunch guidance and the Eatwell guide.
As an alternative to packed lunches, school meals, including a vegetarian option, are prepared daily in our kitchen and children are offered a choice of main courses and desserts.  Children select their main meal choice at the start of the day.  Catering Leeds provides food which meets national Food Standards criteria.  School meals can be combined with packed lunches.
Free school meals are available to all children in Reception, Year 1 and Year 2.  They are also available to some older children according to family income.  It's important to register for entitlement to free school meals, even if your child has a packed lunch or is in a younger class – this is so we can receive additional funding (called the pupil premium) which we can use to help your child.
What is our new school charity?
Part of our Who do you think you are? themed week was to learn about charities and how we can support them.
Our previous school charities, Leeds Mind and Yorkshire Air Ambulance Money, will benefit from £309.97 and £508.88 respectively as a result of fundraising and donations.  Thank you.
It is now time to change our school charity.  Each class discussed a range of charities, researched by the children for their homework, and voted on one charity they wanted to put forward for the school councillors to decide on.
Here were the class choices:
Year 1 Plastic Oceans Foundation
Year 2 Barnado's
Year 3 RSPCA
Year 4 St Gemma's Hospice
Year 5 Make a wish
Year 6 Diabetes UK
The final decision was a vote by the school council and the winning charity for 2017-2018 was Make A Wish.  We will support this charity for one year.
We look forward to welcoming representatives from the charity in January for an assembly where we will hear more about their valuable work.
Money, money, money
Year 2 are currently learning all about money and are working on the following Maths objectives (to be achieved by the end of the year).
26. recognise and use symbols for pounds (£) and pence (p); combine amounts to make a particular value
27. find different combinations of coins that equal the same amounts of money
28. solve simple problems in a practical context involving addition and subtraction of money of the same unit, including giving change
To support your child at home, give them the opportunity to count money by combining different coins/notes.  If you receive a supermarket or shop flyer in the post, let your child have a look at the cost of the items and attempt to add some of the amounts together.
Creative Homeworks
Here are favourite homeworks from last week's creative description of a new land.
Who do you think you are?
Our themed week is in full swing with many highlights so far.
Mindfulness workshops for Year 1, 2, 3 and Reception.
Dove self esteem sessions for Year 5 and 6 (Visitor feedback – 'We really enjoyed running the sessions and the classes we had were great and very engaged!')
Visits from RNIB, BID sensory services and the Leeds deaf and hearing impairment team for all classes
West Yorkshire Police Hate Crime session for Year 5 and 6
Some Year 5 and 6 children attended the Moor Allerton Elderly Care 'Old & New Games' afternoon (Visitor feedback – 'They were brilliant and a pleasure to have.')
Whole school assembly about charities by Val from the Salvation Army charity shop in Meanwood
Year 4 visit to St Gemma's Hospice
Year 5 visit to Marjorie and Arnold Ziff centre
Year 2 visit to Donisthorpe Hall
Thank you to parents who have attended our mindfulness workshop on Monday and our community coffee morning and wake up shake up today.
There is still more to come.
PCSO visit to talk about community safety, road safety and monitor speed outside school in 20mph zone for Reception, Year 1 and 3
Mindfulness workshops for Year 3, 4 and 5
Learn languages in our community for Year 3 and 4
Two more chances to walk, bike or scoot to school (Road Safety Week) to be in with a chance to win prizes on Friday
New school charity will be chosen
Have a go at the Who do you think we are? competition
Take a look at the class news pages to find out more about your child's learning this themed week.
Takeover day
It's takeover day today so the children have been taking over various class duties.
We've had a couple of people taking the register and organising dinner choices:
One of our excellent spellers took control of the spelling test:
Geography – comparing localities
We've been comparing two different localities in our topic lesson, today.
We've compared Lehututu, a village in Botswana which is in the Kalahari desert with Moortown.
We used a Venn diagram to classify the things which were the same and different in the two localities.
Diversity
Today, the focus for our themed week was diversity, looking at how people are different.  We had two visitors to support this, focusing on visual and hearing impairment.
Firstly, we welcomed Natasha and Liz from RNIB.  As our visitors are both registered blind, the children were able to find out first hand all about their life and then put themselves in their shoes.
After that, we worked with Linda Gledhill (Leeds deaf and hearing impairment team).  We learnt some important messages about how to help someone if they are deaf.
Don't shout at them
Stand close by
Speak one at a time
Don't cover your mouth so they can see your lips
Use sign language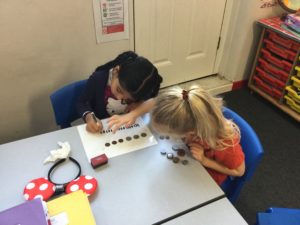 We are special
Thank you for all the special objects and photos that have been sent in to show your children's identity.  As we have had so many, we'd like to keep them a little longer than this themed week so we can give the children chance to tell the rest of the class all about them.
If you do need your items back sooner, please let us know.
When talking about what makes me, me? this video generated lots of discussion and you may want to watch again with your child.