Yoga
This afternoon, we've been stretching and relaxing in a yoga class. We've made animal and plant poses from all around the world. We've talked about our bodies and what they need, different types of animals and their habitats, pollution and even deforestation.
Book Fair
We've just visited the book fair. We had a story read to us about a messy monster called Jumblebum who lives in the bedrooms of untidy children. We've all chosen our books and are now back in class reading them.
Library Books
Sorry that we haven't been able to change the library books. The library is currently being improved and is out of bounds until after next week. Please can you bring in your child's current library book and we'll get new ones as soon as possible.
World Book Day menu
World Book Day is celebrated on 03 March and during that week (Wednesday 02 March) we will be having a World Book Day Roald Dahl menu for school dinners.
Our next SEAL theme – Getting on
For this half term, our SEAL theme Getting On covers four main aspects:
developing the social skills of friendship

working well together in a group

managing anger

resolving conflict
A key resource for children to refer to during this theme, and at other times, is Peaceful Problem Solving.  This is a useful resource to encourage children to sort out their own problems.  You may wish to talk through this with your child(ren).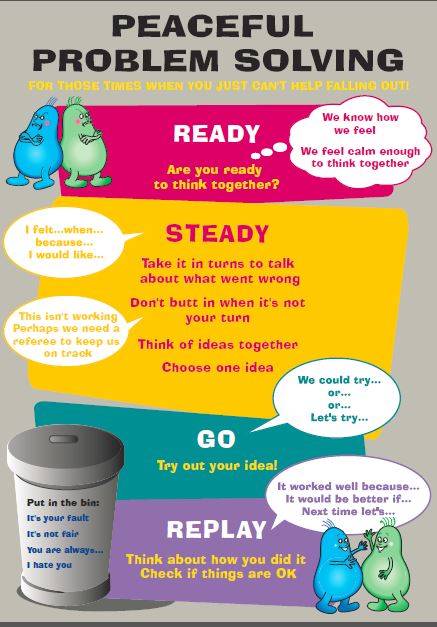 When group work takes place in school, some questions for children to consider are:
Did everyone take turns?

Did everyone listen to what other people thought?

Did each person have chance to tell the group what they thought?

If people had different ideas could the group reach a compromise?
The key areas of learning throughout this theme are empathy, managing feelings and social skills.
We start our weekly SEAL statements with a focus on manners, I don't interrupt (with my mouth or with my hand).
Sainsbury's Sport Relief Mile comes to Leeds
The Sainsbury's Sport Relief Mile is back – and it's coming to Leeds.
Yorkshire Sport Foundation will host a Sainsbury's Sport Relief Mile on Sunday 20 March.
Setting off from Woodhouse Moor, the Yorkshire Sport Foundation Leeds Mile event offers a 1 mile, 3 mile or 6 mile route.
School Council elections
It's was a busy morning at the Moortown Primary School polling station with all classes taking part in our School Council elections.  We've had a record number of children choosing to stand as candidates including the majority of the current School Council.  Candidates prepared and delivered some great speeches to their class earlier this week in preparation for the election.
With a number of very close results, the winning candidates were announced in our assembly this afternoon.
Well done to our new school councillors – we are sure you will represent your class well.
The first meeting will be held after the half term on 01 March and one of the initial decisions to be made will be how we can support Sport Relief.

School Council Elections
Following in-class election speeches this week, our School Council elections will take place on Thursday, 11 February. All children have the opportunity to vote at our polling station using the following instructions.
Before voting, please read the following:
Vote once for one person.
Place one X only on this ballot paper beside the name of the candidate you have chosen.
Do not write or mark anything else on the ballot paper; if you do, your paper will be invalid and your vote will not be counted.
When you have marked the ballot paper, fold the paper and place it in the box provided.
Results will be counted on Thursday and our new School Council will be announced at the end of the day. This will be made up of two children from each class with the highest number of votes.
Good luck to all our candidates.